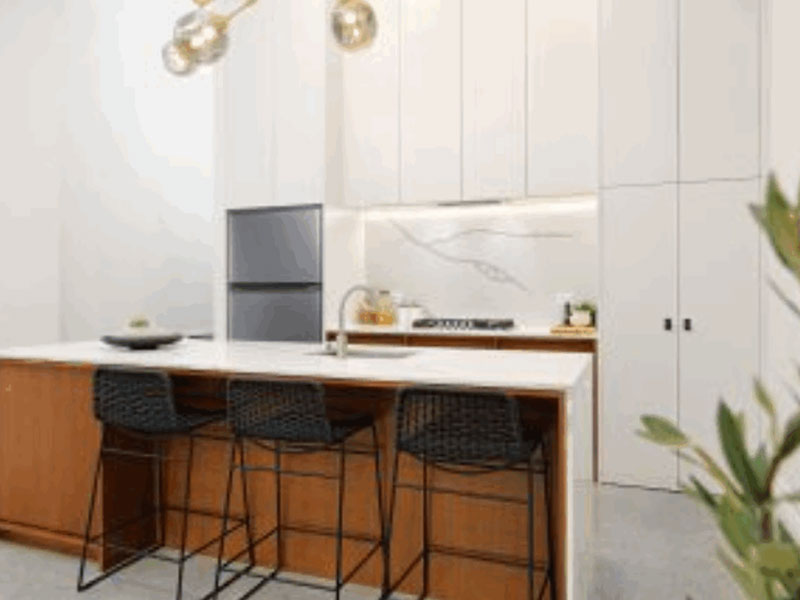 A Superior Quality Kitchen is the key to Leichhardt Renovation Success
[photo shows luxury timber veneer underbench cabinetry and 4 m high polyurethane wall cabinets]
When mother-daughter team, Noela Coffey and Carla Barton chose to renovate a house for sale in the inner western Sydney suburb of Leichhardt, they knew that their target market would demand a renovation of the highest quality.
The truth in the adage that 'kitchens sell houses' meant that when looking for the best in kitchen manufacture and installation, they couldn't look past Degabriele Kitchens.
With our own design, manufacturing and installation teams, Degabriele has long been recognised as a leader in bespoke kitchens and joinery in Sydney. As Noela and Carla are both interior designers, they knew that creativity and attention to detail would be needed to make their unique design features work. This was especially important due to the 4m high ceilings and the custom solid timber handles that were integrated into the stained oak timber veneer doors.
[photo shows the stunning mid century inspired veneer doors and drawers]
[photo shows Carla's favourite design feature- custom integrated solid timber handles]
Noela and Carla's journey was followed by realestateaustralia.com.au as a 6 part video series and we sat them down to a behind the scenes video that you can view here.
<iframe width="795″ height="447″ src="https://www.youtube.com/embed/Vjbvez28f3c" title="YouTube video player" frameborder="0″ allow="accelerometer; autoplay; clipboard-write; encrypted-media; gyroscope; picture-in-picture" allowfullscreen></iframe>
<iframe width="795″ height="447″ src="https://www.youtube.com/embed/3CwMBrih1y0″ title="YouTube video player" frameborder="0″ allow="accelerometer; autoplay; clipboard-write; encrypted-media; gyroscope; picture-in-picture" allowfullscreen></iframe>