Modern Dark Sophistication – Stunning Degabriele Kitchens Design is a nominated as a finalist in the national ACFA Awards 2019
We believe that every kitchen is as individual as the person who is using it. This is why a Degabriele design is always personal and tailored to meet your individual needs. Your kitchen is built with you in mind, whether you are a social butterfly wanting space to entertain or a keen chef in need of a spacious workspace and storage. We design a bespoke solution according to your needs, so you know that your kitchenwill only be found in your kitchen and nowhere else.
[Image shows the kitchen entered into the ACFA Awards]
This year we had the pleasure of the national Australian Cabinet and Furntire Association (ACFA) Awards with a stunning tailor made kitchen for . Finishing as a finalist in our category, we are so proud and honored to have received national recognition for our hard work and dedication to our client.
ACFA's primary role is to promote innovation and interests of Australian furntiure and furnishing related industries. Members include small family busniesses to large national manufactueres, retailers, suppliers and professional industry advisers. We are proud to be a part of a supportive body that promotes our industry and provides essential professional support services.

Introducing the Drummoyne Kitchen.
This modern, dark kitchen is accented with powerdercoated gold integrated handles, warm and natural lighting as well as a layout that balances form and function. The near black colour palette sets a bold tone for the open space and creates a feel that is sophisticated yet warm and welcoming.
Together, the client and designer agreed to use a luxurious dark veneer for the joinery, which created a beautiful textured surface and gave depth to the design. The gold handles were then custom made to suit the clients needs. They were created using a unique powder coat to simulate the look of antique brass. These were the perfect compliment to the the near black tones of the cabinetry and window frames.
Natural lighting surrounds this kitchen, supplying abundant light to the room. Many people would have instinctively chosen light coloured joinery, but the inspired use of dark tones and warm accent lighting proves that you can have the sophistication and elegance of a dark kitchen without closing in the room.
The result is a wow factor kitchen that oozes sophistication and luxury, yet is the warm centre of this family home.
[Image shows upclose view of the dark veneers]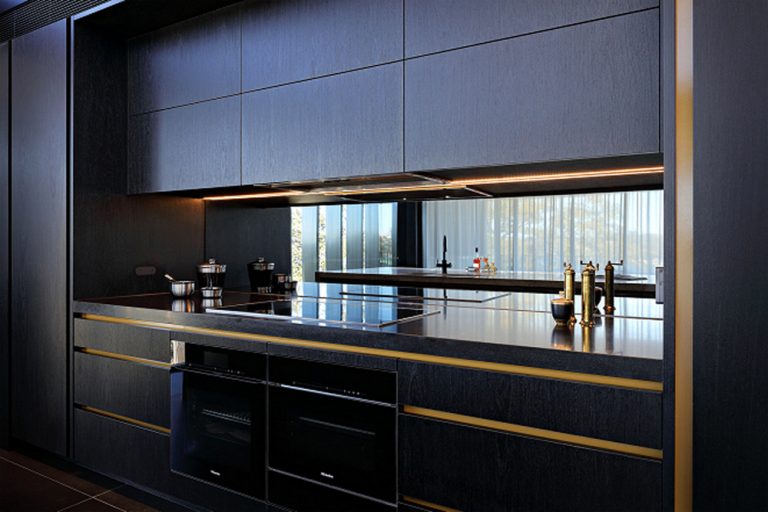 [Image shows the joinery and powdercoatd integrated handles]