Castle Cove Mid-Century Masterpiece
DéGabriele's Contemporary Statement Kitchen
For this kitchen, we wanted to create a minimalist and modern look while adding statement features to create interesting accents and unique talking points.
For the island benchtop, Caesarstone Raw Concrete was selected. The grey color provides the clean look our client desired, while the texture of the concrete gives depth and detail.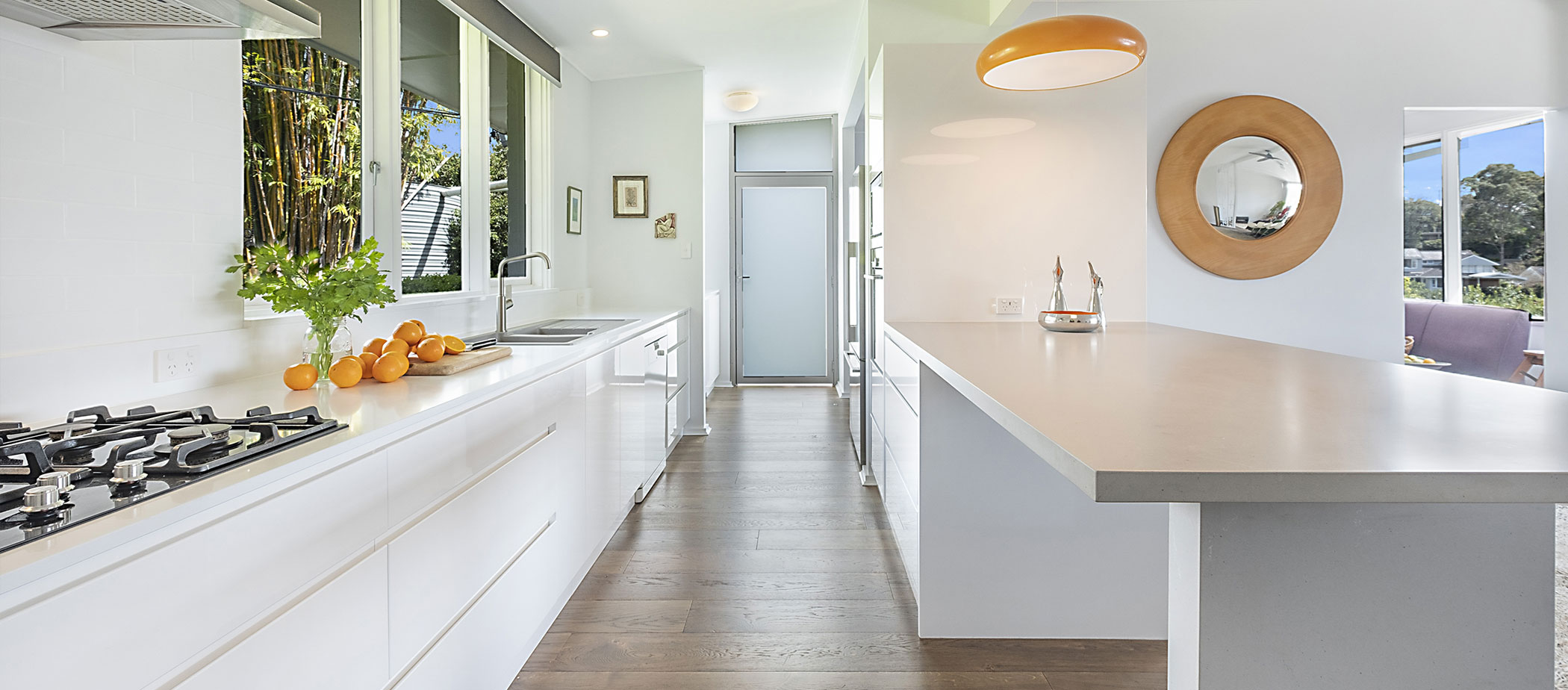 Meanwhile, for the primary kitchen benchtop, we used Ceasarstone Pure White slabs. The white feature keeps the space looking clean and fresh. Using pale and simple colours encourages an open feel in the space, as dark colours can condense and suffocate a room, which isn't ideal for smaller kitchens.
We installed a Schock double sink for functionality, making the kitchen more accessible and convenient. The Villeroy & Boch tap has a subtle industrial feel that compliments the concrete slabs, adding to the statement elements of this modern space.
A Panasonic microwave and Siemens oven were built into the wall adjacent to the island, saving precious space and adding a 360-degree element to kitchen use – ideal when there is more than one person using the kitchen. Since the area is small, installing the oven underneath the cooktop would make the kitchen less accessible for more than one person.
The Highland cooktop is installed underneath a statement Fisher & Paykel rangehood with a sophisticated and unique design. Sitting beneath the cooktop are drawers, ideal for storing pots, pans, and accessories. This storage solution allows for a more convenient cooking experience.
The Fischer & Paykel fridge is positioned adjacent to the oven and microwave, making it accessible even if the kitchen is in use. The sleek white design blends into the wall, ensuring the fridge does not shrink the space with dark colours or an imposing silhouette.
The kitchen pantry is large, concealed, and built into the wall to create a space-saving solution. Adjacent to the kitchen is a butler's pantry, where we installed a round Posh Solus sink basin, along with two Villeroy & Boch taps. The Bosch washing machine was fitted and concealed inside a cupboard to keep the laundry space looking refined and clean.
Our designers installed orange pendant lamps above the kitchen island to finish this statement kitchen and add a pop of colour, along with decorative orange and silver ornaments. The warmth of the orange detracts from any frigid feeling to the sleek design, while the brightness makes the kitchen feel contemporary and avant-garde.
The results
Working with such a small and unique space, our designers needed to focus on keeping the area open, bright and refreshing while adding stylised elements to create an avant-garde and statement kitchen. Interested in exploring design-led kitchen renovations? Check out our extensive case study library, or reach out to our team of experienced designers for more information.
Case Studies
Interested in seeing what Dégabriele Kitchens and Interiors can do for your home?
View all