The owner of this gorgeous penthouse apartment in Darlinghurst wanted a major renovation fit for its prime location and sweeping views. The project included an overhaul of the kitchen, living, walk in robe and bathrooms.
This is indoor/outdoor living at its finest. The DéGabriele team assisted these Kenthurst homeowners to live out their dream. The clever kitchen, BBQ and pool room renovation puts lifestyle at the top of the priority list.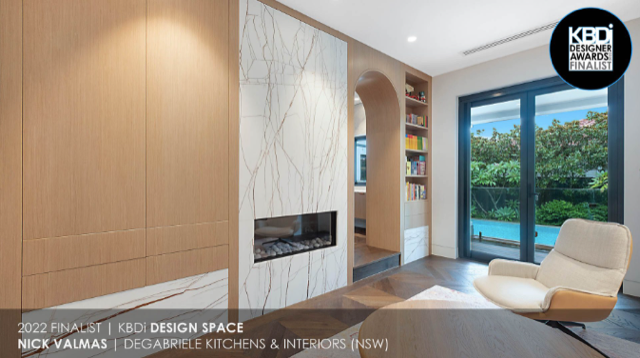 This gorgeous Killara home is a magnificent, circa 1918 post-Federation bungalow. It has been impeccably renovated, drawing on organic elements, old-world charm and modern architecture, resulting in a uniquely elegant home that flows effortlessly from room to room.
This gorgeous Earlwood home is brought to new life thanks to an expert kitchen, dining room, lounge and laundry renovation. The results are elegant, with a subtle wow factor, and put a new spin on traditional features.
Congratulations to our team at Dégabriele Kitchens for winning the 2021 HIA NSW Cabinetmaker / Kitchen Manufacturer of the year.
HIA Executive Director – NSW, David Bare, said "The awards recognise excellence in residential construction and these awards provide a tremendous opportunity for HIA members to showcase their projects and highlight building and design excellence."
This client required a grand bespoke design to suit the large extension that they were making to their federation home. Whilst the rest of the home featured dark timber architraves and floors, the client requested that joinery in the new extension be lighter due to the south facing aspect.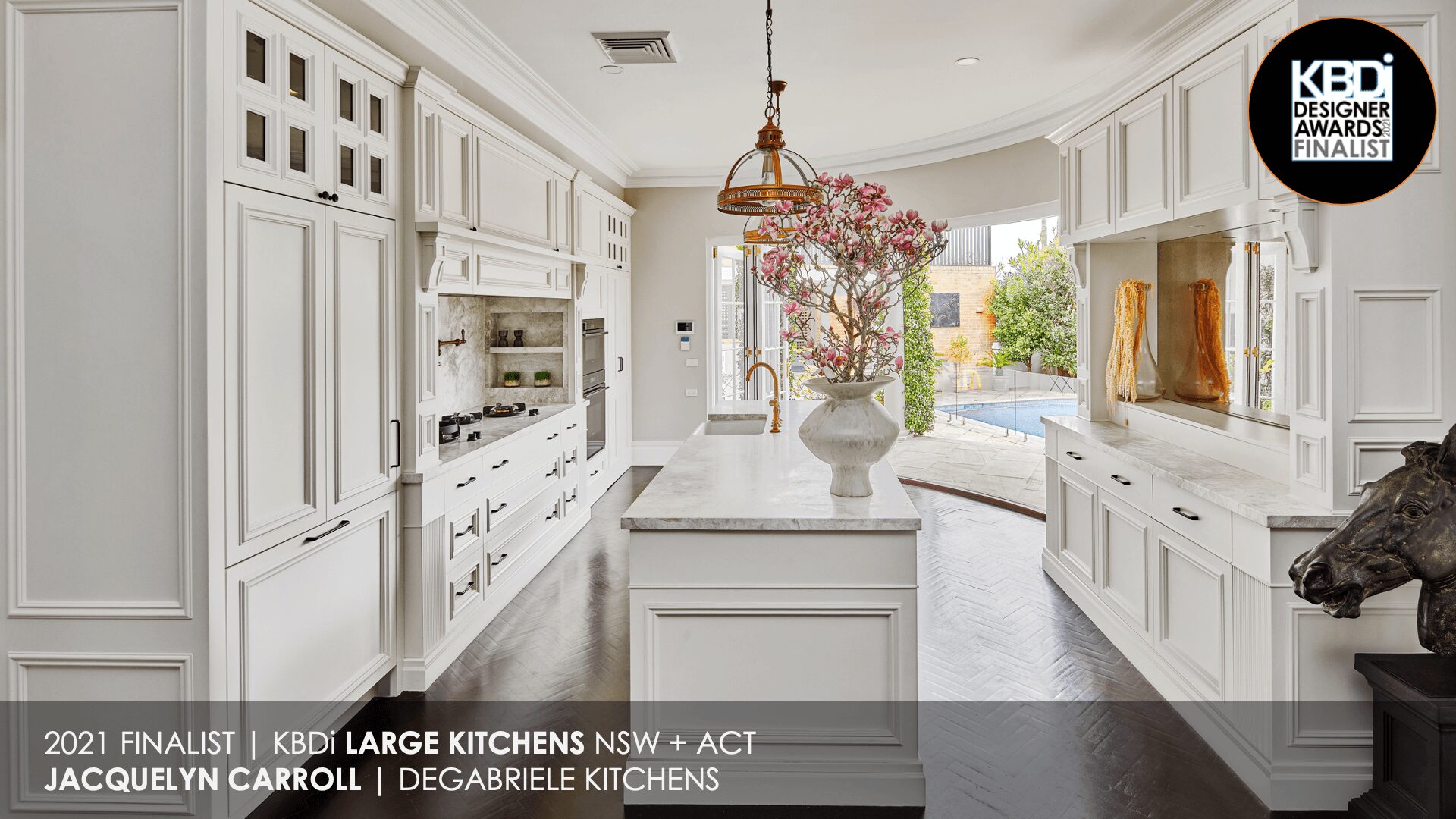 The client required the new design to allow for new large bifold doors to open out to the entertaining area. The kitchen needed to feel bright and fresh but have a strong designer presence that was distinctive and bespoke.The client requested that form over ride functionality, but that the kitchen must include an island and provision in the kitchen for them to be able to see the large security monitor.
Being the hub of the home for this busy, young family, the kitchen design needed to be multifunctional as well as sophisticated. The design needed to include a workstation area suitable for home office and school work, generous storage with easy access to everyday items and appliances, and a large island with ample seating for family and friends to gather.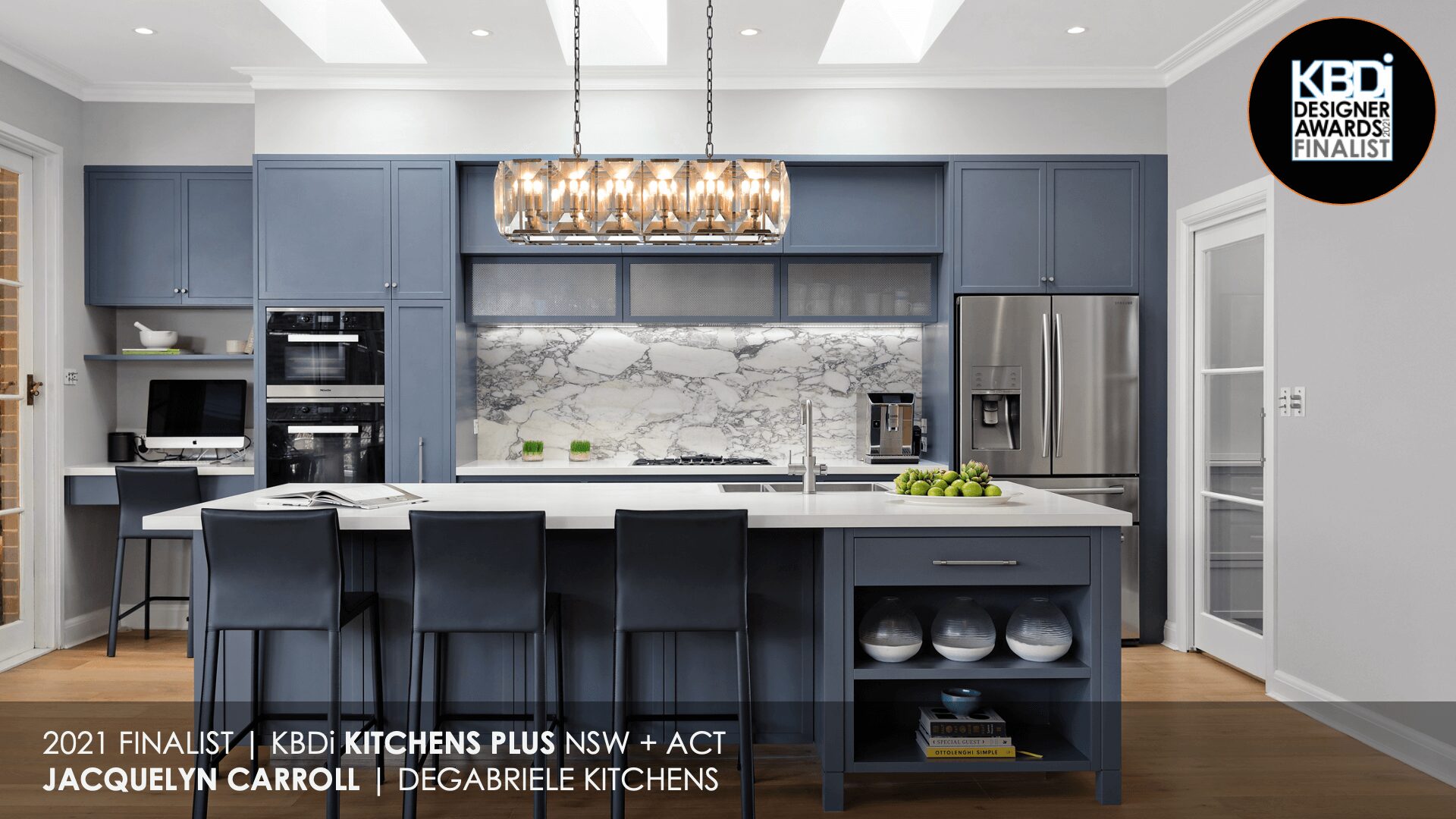 It was important that this kitchen be inviting, calm and beautiful, as well as highly practical. The client hosts intimate cooking classes for people with dietary changes as a result of cancer treatment. Therefore, the inclusion of a large, accessible island with seating and food prep space was essential. It needed to be multifunctional with clutter free surfaces, a workstation and functional scullery, and feature the client's gorgeous rectangular art deco chandelier.
Luxury and sophistication ooze from this unique kitchen that perfectly balances bold monochrome with warmth and openness. The near-black colour palette creates texture and depth. Custom-made gold handles, like an elegantly-jewelled lady, perfectly accent the near-black tones. Stone island countertops bounce natural light playfully and invitingly. With space for ample seating, it's hard not to be lured towards this striking yet inviting kitchen design.
For this traditional house in the leafy Eastern Suburbs of Sydney, clients wanted a traditional kitchen to match. It was essential to incorporate natural stone into the kitchen design on the benchtop, and to include state of the art appliances and elegant Hamptons style. Easy storage for cooking essentials was also desired for this cooking-loving client. A feature, curved stone pilaster is the pinnacle of elegance and sophistication.