We are thrilled to present a recently completed project for another Sydney family.
The design brief was to create a kitchen for a busy family of 5, catering to the various needs of a large household and yet providing great access within, and around, the kitchen.
Once again, our designers came up with practical solutions and exceeded the brief.
The collaboration between designer and customer, something that we pride ourselves on, has delivered a stylish and functional, multi-faceted kitchen. The soft blue of the hand painted doors and panels is complemented with the white benches, allowing the viewer to focus on the splash back centerpiece, lit up for maximum effect. The satin nickel hardware blend into the joinery.
Attention should be drawn to the recessed aluminum bases under the island, allowing plenty of foot space and easy cleaning. The work desk, incorporated into the kitchen, allows the family to multi-task and to remain connected to each other.
Connected to the right hand side of the kitchen, is the walk in pantry.
In here, the designer has created a combination of open display and closed cabinet storage.
A lighter finish was chosen here to compensate for the relatively limited space.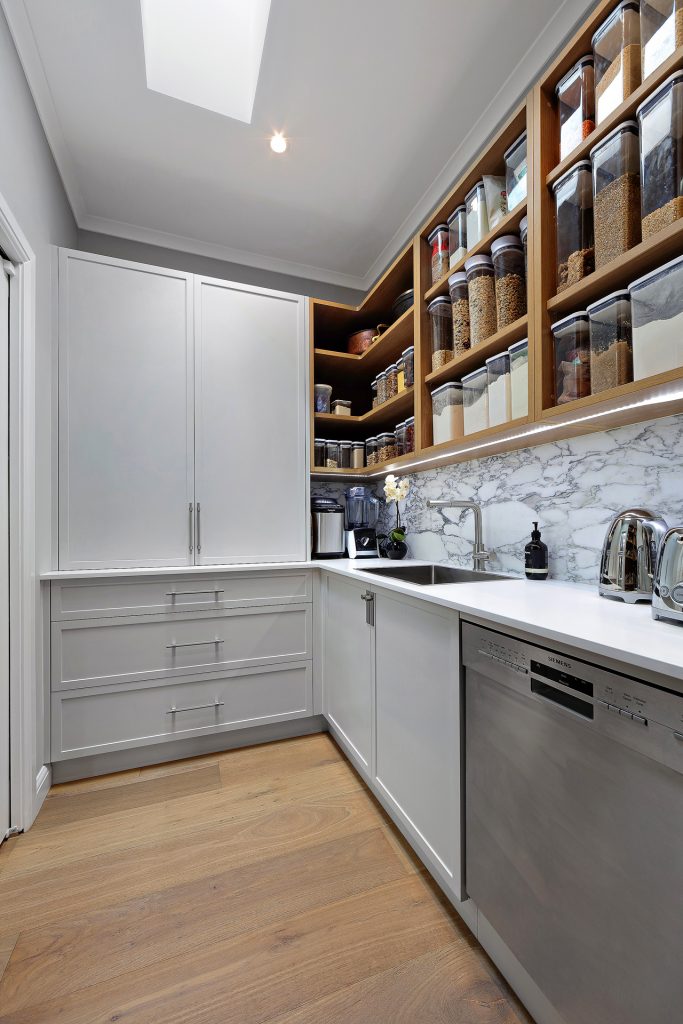 The final result is functional, stylish and minimal. It is casual and individual, allowing this busy family to function and to help express their emphasis on family and leisure.