Norwest Residence
A wardrobe transformation that took drab utility to fab usability.
Client Brief:
Inspired by their friend's magnificent Dégabriele wardrobe renovation, the homeowner wanted to transform the modest bedroom in their newly purchased Bella Vista apartment into a statement of luxury and elegance. Wishing to optimise every available inch of the limited available space, the client dreamed of more hanging room. The wardrobe also needed to provide better access than the existing overlapping design of the sliding mirrored doors allowed.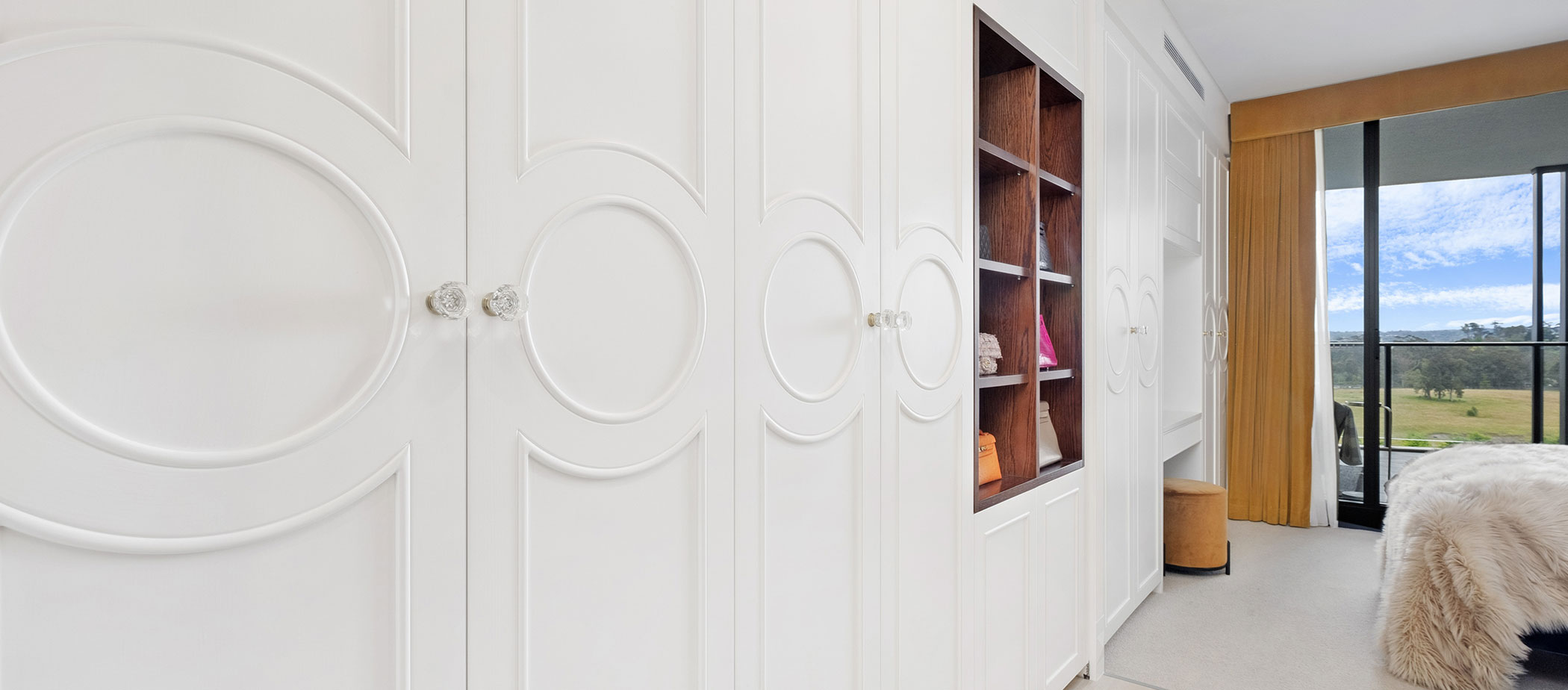 Focal Design Features
Exceeding the client's expectations, the bespoke wardrobe cabinets are brimming with beautiful design features.
Hand-painted in soft white, the doors include a beautiful, subtle geometric design. This touch adds elegance and interest to the space, elevating and transforming the room to new levels of luxury. Ornate glass handles add a hint of feminine sparkle and old-world romance. The internal cabinetry feels unexpectedly rich and inviting thanks to the inclusion of its dark timber colour.
Timber veneer open shelving adds visual interest, anchors the space and provides a magnificent frame to display feature items. It creates a feeling of a high-end boutique in the bedroom.
The built-in makeup dresser not only breaks up the wardrobe visually but provides a clutter-free, convenient nook that enhances the luxurious and streamlined feel overall. The reeded drawer front enhances interest and opulence, while the recessed mirror bounces light beautifully around the room.
Overcoming design challenges
Designers expertly worked around the limited area to maximise practical use of all the available space. Floor to ceiling wardrobes and extra deep drawers offer an abundance of storage and hanging space. Clever devices were incorporated, including Blum Aventos door openers enabling access to the highest spaces in the robes. Careful consideration was given to the clever placement of power points, door handles and lights to optimise practicality and usability.
Thanks to the ease of Degabriele's own factory, we are able to offer clients completely bespoke, custom made designs. Enjoy one-of-a-kind results that truly speak to your tastes and desires.
Case Studies
Interested in seeing what Dégabriele Kitchens and Interiors can do for your home?
View all